Know our "Price Match Guarantee"
BW Shutters is a leader in the window treatments industry, and we are committed to excellence in our service. 'Price Match Guarantee' is our commitment to you, that if you see an identical item or similar quotation cheaper on another site or store, we'll match that price for you.
Welcome to BW Shutters
BW Shutters is a family-owned window plantation shutters manufacturer and wholesaler serving Sydney, Melbourne, Gold Coast and Perth. We bring together more than 20 years' experience in shutters manufacturing to offer customers quality window solutions for every style of home.
In our modern plantation shutter factory in China, we utilise the latest technology and manufacturing equipment in order to produce a variety of high-quality shutters, including plantation shutters parts, custom-made shutters
. So that we could provide products with lowest price and best quality, as we control the process from raw material to delivery the products to your door. We believe that you've arrived at the best place to buy window coverings for your home.

Why plantation shutters?
Plantation shutters are a popular design choice in many Australian homes, offering an elegant and aesthetically pleasing window solution that blends well with a variety of decors. Plantation shutters don't just look good, either. These stylish window treatments also offer a range of practical benefits for your home. Here are six reasons why plantation shutters are a smart choice for your interior.
Maintenance
Plantation shutters require less maintenance than other types of window coverings, with a large surface area that is easy to clean. Simply give your internal shutters a quick wipe with a damp cloth from time to time to keep them in tip-top condition.


Keep privacy
Interior shutter blades can be easily adjusted to let light in and allow fresh air to circulate. Plus, unlike alternative window dressing, you can angle the blades for extra privacy so that others won't be able to see in.



Energy-efficient
Plantation shutters are excellent insulators, allowing you to keep energy bills at a minimum. They help maintain a moderate temperature all year round, providing an extra layer of insulation in winter and coolly deflecting the hot sunshine in summer.

Aesthetics
Our plantation shutters are undeniably beautiful and come in a variety of sizes and finishes to suit every style of home. Whether you opt for a contemporary or traditional design, these window treatments add instant aesthetic value to your home. What's more, plantation shutters look good from both the exterior and interior of your property.
Soundproofing
These window treatments also do a fantastic job of blocking out noise pollution, as they're manufactured or adjusted to fit your window perfectly. With a solid wood construction that very little sound can travel through, plantation shutters are the ideal window solution for homeowners who value peace and quiet.
Durability
These shutters are durable and built to last. Unlike blinds and curtains, plantation shutters won't fade with time or sun exposure, lose their colour, warp or peel.
Which material to choose?
Our shutters are made from top-quality materials and designed with style and simplicity in mind. There are three premium materials to choose from - Basswood, Paulownia and PVC - each of which will bring its own unique benefits to your home.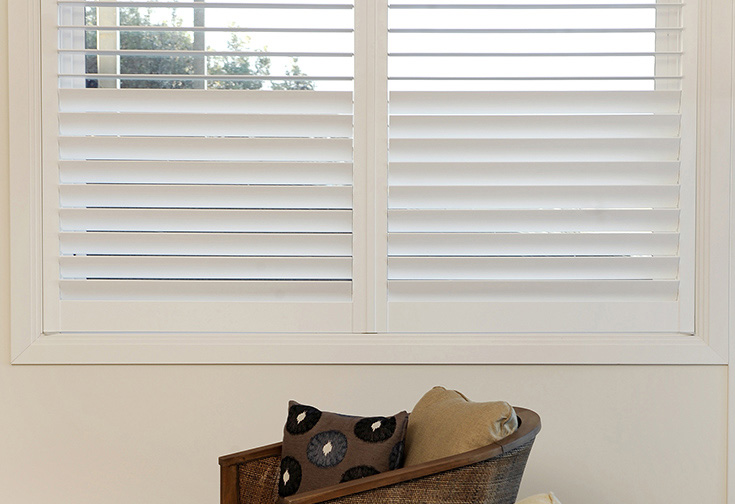 Basswood shutters

Basswood is a hardwood that can be used to create affordable plantation shutters for all window shapes. Its durability and easy workability make it a popular material on the global market. Basswood is hard enough to keep its structure over time, and it won't shrink and swell like other woods either. Plus, the wood's tight grain and smooth, natural finish means it can be beautifully painted in a wide range of colours and stains too. We offer 10 standard colours for basswood shutters (including stained colours), with the option of using your own custom colour as well.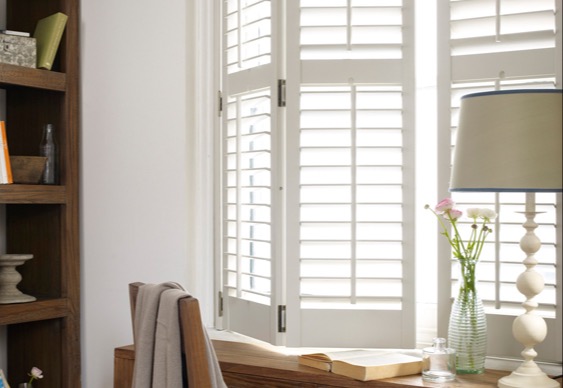 PVC Shutters

For bathrooms, kitchens and other wet areas, our PVC shutters provide the perfect waterproof, termite- and fire-resistant window solution. Our PVC shutters are produced from foamwood and reinforced with aluminium to create a lightweight and extremely strong product for your home. Choose from eight standard colour, or design the custom colour of your choice.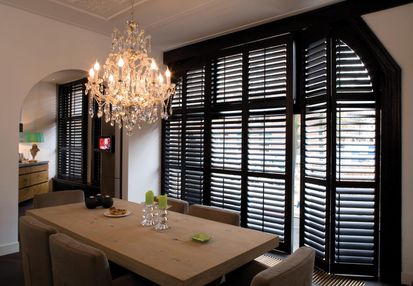 Paulownia Shutters

Paulownia wood is sourced from sustainable plantations and makes for a beautiful, warp-resistant shutters in a soft, light colour. Paulownia shutters have excellent insulation properties and low thermal and electric conductivity and are corrosion and wear-resistant as well. The distinctive, linear fine grain of Paulownia wood also allows for a uniform, premium finish that is ideal for painting and staining. Choose from a range of 10 standard shades (including five wood stain colours) or create your own custom colour.
Why Choose us?


We are a manufacture and wholesale enterprise for window coverings.
Market expertise
We've serviced Australian market for more than 10 years, and we're now a recognised leader in the industry, with a wealth of expertise in plantation shutters manufacture and supple. We know what Australians want from their homes, and we're passionate about providing products that help Aussie homeowners turn their interior dreams into a reality.
Timings
We've streamlined our ordering and manufacturing process to make finding your ideal shutter solution simple, with super-fast production and delivery times. Our custom plantation shutters take around six weeks to make, ship and install. Our blinds take around 2 weeks to make and install.
Products range and quality
BW Shutters is your one-stop-shop for all kinds of window solutions. While we specialise in the production and wholesale of plantation shutters, we also provude a range a quality curtains and blinds for your home, we well as everything you need for DIY shutters. All of our products are made from only the finest raw materials, and we take care to ensure each shutter or blind is of dependable quality before we have it delivered to your door. Our shutters come with a 15-year warranty for the shutter structure, giving you extra peace of mind.
Australian owned and operated
BW Shutters are operated right here in Sydney, Australia.
Value for money
Browse our online range of window coverings, and avail of factory-direct prices as well as fee measurement and delivery. Our prices are so competitive that we invite you to compare quotes from other competitors. And don't forget to check out our products sale, where you'll find discounts.

Shop online
Shop for your products at your convenience - our online shutter shop is open 24/7. Plus, we can deliver our samples straight to your door, and we provide a free measurement and design service too.
Contact Us
Contact us today and get your obligation free quote instantly. Our professional people will help you find the best option for your home.

Address
46 Gladstone Ave, Ryde NSW 2112
Our office
Monday - Friday: 9:00 - 17:00
Saturday: 9:00 - 15:00.